For the past year or so, AMD is truly dominating the CPU market.
Their Ryzen 3000 series has landed a big blow on Intel's offerings with features like 7nm architecture, PCIe 4.0 support, and hyperthreading in cheaper CPUs.
This is the reason why more and more people are building their next PC rig based on Ryzen CPUs.
The only area where AMD was slightly criticized was the new X570 chipset that's required to get the most of those 3rd-gen processors.
Sure, you can use also an older B450/X470 motherboard with the processors and it would work fine after an BIOS update, but the PCIe 4.0 compatibility was limited to X570 models which are fairly expensive than their B450 siblings.
Best B550 Motherboard Review Roundup
| | | | |
| --- | --- | --- | --- |
| Motherboard | Award | PCIe X16 | VRM Config. |
| ASUS ROG Strix B550-E | Best High-End B550 Motherboard | 3 | 14+2 |
| ASUS TUF Gaming B550M-PLUS WiFi | Best micro-ATX B550 Motherboard | 2 | 8+2 |
| ASRock B550 PRO4 | Best Budget B550 Motherboard | 2 | 8-phase |
| GIGABYTE B550I AORUS PRO AX | Best mini-ITX B550 Motherboard | 1 | 6+2 |
B450 motherboards in particular looked more downgraded options because of their limitations in the form of relatively poor VRM setup, no Multi-GPU configuration, and no USB 3.2 Gen 2 support.
Not anymore, because now AMD has decided to release a new chipset that'll cost less than X570 while bringing the premium features.
Meet the new B550 Chipset.
It was announced at the release of Ryzen 3100 and 3100X processors, and motherboards equipped with this chipset have been released on June 16, 2020.
What is the B550 Chipset
Unlike its predecessor, the B450, B550 Chipset is not compatible with Ryzen 1st and 2nd Gen processors. It means if you have a processor that belongs to either of those series, it will not work with a B550 motherboard.
Not only that, the new B550 motherboards will not work with Ryzen "picasso" 3000 APUs (Ryzen 3 3200g and Ryzen 5 3400g) either. Instead, it'll work work Zen-2 based Ryzen 3000 "Matisse" CPUs and Zen 3 based Ryzen 4000 CPUs.
For better understanding, take a look at the picture below.
Some people are speculating that there's support for these new motherboards even beyond the Ryzen 4000 series but it's highly doubtful and far-fetched at this point. If nothing else, there will be BIOS ROM limitation due to limited space.
That being said, the B550 motherboards are here to stay for at least 2 years from now.
Best B550 Motherboard 2020 Buying Guide
Since B550 motherboards have just released, we have only included only three motherboards so far. But we'll try to add more in coming weeks and months.
GIGABYTE B550I AORUS PRO AX: Check Price On Amazon
Best Mini-ITX B550 Motherboard
Mini-ITX builds are quite popular among PC builders these days. So I thought we'll start our roundup with this form factor.
There are a couple of mini-ITX options among B550 mobos (some more will probably be launched later) but I decided to go with Aorus Pro AX it offers a good balance between features and price.
Some of its highlights include dual M.2 slots, 2.5 GbE, WiFi 6, and Realtek ALC1220 Codec. We'll talk about each of them separately, but let's look at its design first.
It follows a simple but effective color scheme with a black-colored PCB and dark grey heatsinks and I/O cover. One obvious advantage of such colors is that the motherboard can blend well with the other components of your PC build.
The I/O panel has almost all options you can expect in a modern board with four USB 3.2 Gen 1 Type-A ports, one USB 3.2 Gen 2 Type-A port, one USB 3.2 Gen 2 Type-C port, 2 HDMI ports, etc.
The CPU socket area in the middle is quite wide for a mini-ITX board but it would better if you check your CPU cooler' clearance beforehand – particular if you have something like Noctua D-15 or be quiet! Dark Pro 4.
Aorus Pro AX uses an 8-phase VRM setup in a 6+2 configuration to power the CPU. Each of these phases use an Intersil ISL99390 power stage that can provide a maximum of 90A of continuous current.
All in all, it means that Gigabyte B550 B550I AORUS Pro AX has a maximum output of 720A, with 540A of it dedicated to the Vcore portion.
Out of its two M.2 slots, the main slot (which is above the PCIe x16 slot) support PCIe 4.0 standard while the secondary slot is located on the backside of the board and comes with older but still great PCIe 3.0 connectivity.
For conventional storage, there are four SATA ports on the right edge of the board. On the left side of those SATA slots, there are two DIMM slots that support upto a maximum of 64GB (32×2) DDR4-4866 (OC) MHz memory.
For graphics card, there's a single PCIe 4.0 x16 slot located at the bottom of the board.
If I were to nitpick any one downside here, then it would be the memory overclocking which is not quite up to the level of other B550 models (but isn't too shabby either).
On the other hand, I totally loved the solid VRM design which leds to good CPU overclocking, some high-end bells and whistles, good quality audio codec, and even a metal backplate to provide extra stability as well as heat dissipation.
Overall, you cannot ask for anything more in a mini-ITX motherboard in this price range.
Sale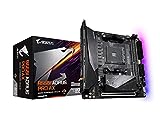 GIGABYTE B550I AORUS PRO AX (AM4 AMD/B550/Mini-Itx/Dual M.2/SATA 6Gb/s/USB 3.2 Gen 1/WiFi 6/2.5 GbE LAN/PCIe4.0/Realtek ALC1220-Vb/DisplayPort 1.4/2xHDMI 2.0B/RGB Fusion 2.0/DDR4/Gaming Motherboard)
Supports 3rd Gen AMD Ryzen Processors
Dual Channel Non-ECC Unbuffered DDR4, 2 DIMMs
Direct 8 Phases Digital Power with 90A Smart Power Stage
Check Price
ASUS TUF Gaming B550M-PLUS WiFi: Check Price On Amazon
Best Micro ATX B550 Motherboard
Moving on from mini-ITX, here we have a micro-ATX board: Asus TUF Gaming B550M-Plus WiFi.
Despite being the common ground between mini-ITX and full ATX boards, the number of micro-ATX boards in the market is quite low. I beleive they're caught up between two extremes where the PC enthusiast go for full ATX builds while others simply choose more smaller mini-ITX options.
Anyways, it's good to see Asus releasing such a board right at the start to mATX fans like me to test out.
A part of the slightly affordably but sturdy TUF motherboard lineup, the Gaming B550M-PLUS WiFi comes with advanced features like 8+2 DrMOS Power Stage design, bigger heatsinks, military grade TUF components and of course, PCIe 4.0 connectivity.
Design wise, it's similar to the other TUF products we've seen over the last few years. The PCB is dark grey while heatsinks, I/O cover and other slots are colored black with yellow/grey vertical lines that run through some of those heatsinks.
One obvious downside I found here is the lack of a pre-installed I/O shroud. Yes, you get it separately in the accessories but it would have been better if was pre-installed out of the box.
The I/O panel itself has a legacy PS/2 port, two USB 2.0 ports, four USB 3.2 Gen 1 Type-A ports, and a pair of USB 3.2 Gen 2 in Type-A and Type-C format etc.
On the top portion of the board, you'll see an 8+2 power phase design that contains TUF chokes and Capacitors. These components are specifically designed to withstand higher temperatures and subsequently have higher lifespan. There are two large VRM heatsinks to cool down this area.
On the top right corner, you can find fan headers for your air or AIO cooler, and below these headers are the four DIMM slots that support upto 128 GB RAM memory. On the right side of these slots, there's the 24-pin ATX connector, and below this connector is the USB 3.2 Gen 1 Type-A USB connector.
One difference I found in this board is that the SATA ports here are vertical and are located on bottom-right corner. Above these SAT ports is the PCH heatsink, and on the left side of this heartsick are PCIe and M.2 slots.
There are two PCIe slots but one of one of them is armored and features PCIe 4.0 connectivity. The other one is unarmored and has 3.0 connectivity.
Same is the case with M.2 slots where the bottom one comes with heatsink for protection and heat dissipation while the top end does not – which is a weird decision on Asus' part because it's the top M.2 slot that has the PCIe Gen 4 connectivity.
Thanks to its excellent VRM setup, we were able to overclock our Ryzen 3900X easily to 4.3 GHz on all cores without any performance issues.
Whether you want to get it or not will depend entirely on your preferred form factor. If you prefer mATX motherboards, then you can surely ignore some small hiccups and go for this one. But if that's not the case, or if you find the price slightly higher, there are better alternatives for you in this roundup.
Buy Now From Amazon
ASRock B550 Pro4: Check Price On Amazon
Best Budget B550 Motherboard
The third motherboard of this roundup is ASRock B550 Pro4 (not to be confused with its sibling ASRock B550M Pro4).
It's different from the other two boards we've discussed earlier, on two counts. First, it's an ATX-based motherboard. Secondly, it's significantly cheaper than the TUF Gaming B550M-PLUS WiFi and AORUS PRO AX.
Those motherboards are good in their respective fields but do not fall in the 'budget' category. Therefore, we thought to include one motherboard for those with tight budgets, which we have done in the form of Pro4.
In terms of features, it's probably like a stripped-down version of the slightly expensive B550 Extreme4, with single Ethernet port (instead of the newer 2.5 GbE), less number of power phases, and less overall bells and whistles.
Both of the motherboards belong to different line-ups, however, and that's why you can see a difference in their appearances as well.
Extreme4, for example, has black/grey color scheme, has power components on the top and left side of the socket, the latter of which also has a big heatsink that extends as the I/O shroud.
On the other hand, Pro4 has all of its heatsinks silver coated, all of its power components on the left side of the socket, and has a smaller VRM heatsink, and a smaller I/O shroud that does not cover all of its ports.
It has an 8-phase power phase design which, although less powerful than the 14-phase phase design of Extreme4, is capable enough to handle the low-tiered Ryzen 3rd gen processors.
In order to cut down the overall cost, the chipset heatsink is also smaller and is not connected to the M.2 heatsink. Only the top M.2 slot is covered with heatsink, as there's another one that is uncovered and located below the chipset heatsink.
Same is the case with PCIe slots where the top PCIe 4.0 x16 slot is reinforced, while the secondary full-length slot that runs at PCIe 3.0 x4 mode is not.
Overall, I believe it's a good budget option for those who a taste of PCIe 4.0 but don't want to spend anything extra for it. It's simply the best budget B550 motherboard as of now.
But in case you have extra budget, I would recommend going for Extreme4. It offers a lot of improvements over Pro4 with exactly $50 price difference.
Buy Now From Amazon
Conclusion
So these were some of the best B550 motherboards we have reviewed. Since a very few of these boards have been released so far, this list will definitely be updated in the coming months. But these are our picks as of now,.
B550 vs X570 Chipset
Since B550 is a step-up from the older B450, one of the obvious question that comes is that how is it different from the premium X570 chipset.
Although both of these chipsets have PCIe 4.0 connectivity, there's still some difference in how many of those lanes you get.
In order to keep the cost for these motherboards lower, you'll get partial PCIe 4.0 support.
It means that the the top M.2 slot and main PCIe x16 will be wired to the processors and will have PCIe 4.0 connectivity. All are other "general purpose" lanes will get PCIe 3.0 connections which, although doesn't look great, is still better than PCIe 2.0 connection on those lanes in B450 motherboards.
The B450 doesn't allow USB 3.2 Gen 2 port, while you get 8 such ports on X570. The B550 sits in the middle of the two with two Gen 2 and six Gen 1 ports.
Another advantage it has over B450 chipset is the multi-GPU support, while AMD has retained CPU and memory overclocking features here.
Lastly, B550 has 6 SATA ports instead of 8 on X570.
As you may have realized, due to all the bells and whistles AMD has put in this chipset, B550 may not be as cheap as their B450 siblings. And in some cases there will be more expensive B550 motherboards than some entry-level X570 boards.