Buying a small form factor, or "Mini" GPU graphics card is a must for truly compact Mini ITX pc gaming builds.
In this roundup, we will be looking at the best mini, small form factor (sff) GPU cards that you can find on Amazon and Best Buy. We will also look at some of the critical factors to consider when buying a mini or sff graphics card.
Best Mini GPUs for Gaming in 2021
Dimensions
Length (mm)
Check Price
ZOTAC GTX 1080 Ti Mini
8.31 x 4.92 x 1.61 inches
211.07 mm
Check Price
GTX 1650 OC
5.94 x 4.38 X 1.53 inches
150.88 mm
Check Price
Gigabyte GeForce RTX 2060 Mini ITX OC 6G
6.69 x 4.78 x 1.43 inches
169.93 mm
Check Price
Radeon RX 5500 XT Challenger ITX
7.01 x 4.88 x 1.50 inches
178.054 mm
Check Price
EVGA GTX 1060
6.80 x 4.38 x 1.62 inches
172.72 mm
Check Price
Asus GTX 750 Ti
6.70 x 4.38 x 1.50 inches
170.18 mm
Asus Radeon RX 550
7.60 x 4.70 x 1.40 inches
193.04 mm
Check Price
MSI RX 560
6.1 x 4.4 x 1.5 inches
154.94 mm
Check Price
Small form factor PCs have risen in popularity the past few years as components have gotten smaller and smaller. No longer do most gamers need a DVD or CD drive. Also, SSDs have replaced larger spinning disk drives, and with M.2 SSDs, you save even more space. Cooling has gotten better, so you can pack more hot components like your CPU and GPU into smaller spaces.
ZOTAC GTX 1080 Ti Mini: Check Price On Amazon
Best High-End Small Form Factor Graphics Card
The first GPU we are going to review is the ZOTAC GTX 1080 Ti. The Zotac GTX is the shorter version released after full-sized 1080 Ti versions. As the name suggests, the 1080 Ti Mini is comparatively smaller and offers a two fan design, and despite having two fans, the GPU is still a small one when put next to the full-sized variant.
The good thing is that the small size allows you to fit the GPU in smaller cases easily, the color scheme is neutral, which means that it will look good in almost all the computers regardless of the color scheme you use.
Additionally, you still have a speedy 1080 Ti despite having lower clock speeds.
There are a few downsides that you will get with this GPU; for starters, the GPU runs on its thermal limit and can get pretty hot, and under full stress, the fans can be loud, especially if you have a comparatively small case.
Last but not least, despite being an underclocked chip, you still need two 8-pin power connectors to run this.
In conclusion, the ZOTAC GTX 1080 Ti is a great GPU; it can give you an excellent gaming performance. Despite being underclocked, it still gives you outstanding performance.
Pros
Pros
Outstanding performance in every game across the board.
Incredibly small.
Neutral color scheme.
Cons
Cons
The GPU can get hot and reach the max temperature.
Fans can get loud when under load.
The GPU still requires two 8-pin power connectors.
Expensive.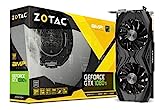 ZOTAC GeForce GTX 1080 Ti Mini 11GB GDDR5X 352-bit PCIe 3.0 VR Ready Super Compact Gaming Graphics Card (ZT-P10810G-10P)
New Pascal Architecture. NVIDIA GeForce GTX 1080 Ti GPU
11GB GDDR5X 352-bit
Virtual Reality Ready
Check Price
ZOTAC Gaming GeForce RTX 2070 Super Mini 8GB: Check Price On Amazon
Best Nvidia Super Small Form Graphics Card
This "Super" edition of the RTX 2070 is the most recent RTX graphics card available in Mini form. A powerful card, you'll pay over $500 for this little GPU. It's not the smallest or shortest card, coming in lengthwise at over 8″ (8.25″ or 209.6 mm). This Zotac small GPU is the most potent Super Mini card available right now.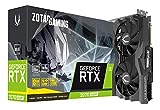 ZOTAC Gaming GeForce RTX 2070 Super Mini 8GB GDDR6 256-Bit 14Gbps Gaming Graphics Card, Ice Storm 2.0, Super Compact, ZT-T20710E-10M
Turing architecture, ray tracing cores, tensor cores, nvidia dlss
8gb 256-bit gddr6, 14gbps
Ice storm 2. 0, our strongest cooling, metal wraparound bACk plate
Check Price
Gigabyte GeForce RTX 2060 Mini ITX OC 6G: Check Price On Amazon
Best Value Small Form Factor Graphics Card
Released in early 2019, this Mini-ITX GPU is one of the few "ray-tracing" or RTX cards available in the short form format. At just 169.93mm, this isn't the shortest card on our list, but it's not the largest either.
While not nearly as powerful as the 1080 TI, this little card will still perform well, the 1080 Ti may give you 50% better GPU performance, but that comes at more than double the price. You can find an RTX 2060 short form graphics card for around $350. Good luck finding a Ti anywhere close to that.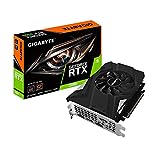 Gigabyte GeForce RTX 2060 Mini ITX OC 6G Graphics Card, Mini ITX Form Factor, 6GB 192-bit GDDR6, GV-N2060IXOC-6GD Video Card
Powered by GeForce RTX 2060
Nvidia Turing architecture & Real time Ray Tracing
Intuitive controls with AORUS engine
Check Price
ZOTAC GTX 1650: Check Price On Amazon
Best Cheap Small Form Factor Graphics Card
This card is not the most powerful GTX out there, but you can find it in stock, and it's relatively cheap compared to its performance. The Zotac GTX 1650 is the short form GPU I have in my little Mini ITX PC build. I take this build over to my brother's house for LAN gaming. It's portable, and this card can power Overwatch at 130 FPS on High graphics settings. That's more than enough frames for my gaming needs.
This GPU is the shortest card in this list in terms of length. At just 5.94 inches or 150.876 mm, a Mini ITX motherboard is longer!
This card also does not require external power. It will draw power from the motherboard, which means one less power cable. Paired with an M.2 SSD, you can build a Mini-ITX PC for gaming with this card and only have two lines from the PSU to power the motherboard and CPU (as shown in my build above)! I love that.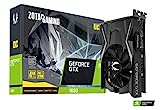 ZOTAC GAMING GeForce GTX 1650 OC 4GB GDDR6 128-bit Gaming Graphics Card, Super Compact, ZT-T16520F-10L
New Turing Architecture
4GB 128-bit GDDR6
Super Compact 5.94-inch Card, Fits 99% of Systems
Check Price
Radeon RX 5500 XT Challenger ITX: Check Price On Amazon
Best AMD Small Form Graphics Card
Just released in the summer of 2020, the RX 5500 brings a powerful AMD RX GPU into the mini-ITX world. At only 178.05 mm in length (7.01″) this is the middle of the road card in terms of size but should fit in most mini PCs made for gaming.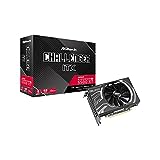 ASRock Challenger ITX Radeon RX 5500 XT DirectX 12 RX5500XT CLI 8G 8GB 128-Bit GDDR6 PCI Express 4.0 x8 HDCP Ready Video Card Model RX5500XT CLI 8G Check Price
EVGA GTX 1060: Check Price On Amazon
Best Small Form Factor Graphics Card For Value
The next GPU we are looking at is from EVGA. For the longest time, EVGA is doing great by Nvidia and has released some impressive GPUs so far.
The trend continues as we look at the EVGA GTX 1060, a budget-friendly GTX 1060, which has its short form factor as the most significant selling point. With that said, we are to see if the GPU is worthy, aside from being mini.
As I have discussed before, the most significant selling point here is that this is perhaps the most compact desktop-sized GTX 1060. If you are building a small form factor PC, this will be a great addition to the PC as you do not have to worry about the size.
Additionally, since this is EVGA, you get a great warranty, which means that even if you mod the GPU in one way or another, EVGA will be honoring the warranty as long as the GPU is under warranty.
This variant of 1060 comes with 6GB of memory, making it one of the cheapest GTX 1060s available in the market. As far as the performance is concerned, despite being small, it performs like a champion.
In all honesty, there is not a lot wrong with the GPU. It performs well within its reach and gets the job done. The only issue is that it does not come with the memory cooling, which can lead to some problems if you are thinking about overclocking the GPU.
Overall, the EVGA GTX 1060 is an excellent GPU for anyone looking to keep things simple and to the point.
Pros
Pros
Low profile means that the GPU can fit pretty in much in every case.
Great performance.
Low noise.
Great thermals.
Pocket friendly.
Cons
Cons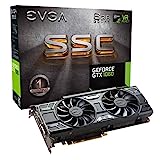 EVGA GeForce GTX 1060 SC GAMING, ACX 2.0 (Single Fan), 6GB GDDR5, DX12 OSD Support (PXOC), 06G-P4-6163-KR
Real Base Clock: 1607 MegaHertZ/ Real Boost Clock: 1835 MegaHertZ; memory Detail: 6144MB GDDR5. Revolutionary new 360 degree image capture
EVGA GeForce GTX 1060 sc, small size, huge performance. Height: 4. 376 inches 111.15 millimeters; length: 6.8 inches 172.72millimeters; width: Dual slot
What you see is what you get, No additional software required to achieve listed Clock speeds
Check Price
ASUS GTX 750 Ti SC: Check Price On Amazon
There is no denying that Asus has done a great job releasing some excellent components in the past. If you are looking for a low profile GPU from them, then do not worry as they have many options available.
Today, we are reviewing the ASUS GTX 750, a low profile GPU that can give you decent performance in gaming and other media-related tasks.
The good news is that the GPU is extremely power efficient, which means that you do not need to spend a lot of money on a robust power supply.
Additionally, the GPU is quiet even under load, and it comes overclocked out of the box, and despite the factor overclock, there is some potential for overclocking. You do not need to connect an additional power connector, and the temperatures are relatively low.
The best part here is that this GPU does come with CUDA cores, this means that if you have tasks that require CUDA cores, you can utilize this GPU to some extent.
As far as the downsides are concerned, there are a few things to keep in mind. Despite being a single slot cart, it requires an extra slot due to a bulky cooler; the card does not come with SLI support, which makes sense at this point, and the memory of the GPU does not come overclocked out of the box.
Last but not least, there are some restrictions to overclocking because of the power limiter.
In conclusion, if you are building a small gaming PC to game on and want to play the eSport titles with ease, then the ASUS GTX 750 is something you should consider.
Pros
Pros
Decent performance.
Extremely low power consumption.
Overclocked out of the box, with additional headroom.
CUDA support is a godsend.
Great temperatures.
Cons
Cons
No SLI support.
It still requires two slots.
Memory does not come overclocked.
MSI RX 560: Check Price On Amazon
Best Cheap AMD Small Form Factor Graphics Card
We are finally looking at something from the red team, the AMD Radeon RX 560; this time, it is brought to us by MSI. Since the focus is on small form factor, we had to choose this GPU for apparent reasons.
Now before we begin, MSI followed an exciting design language here; they did make the GPU mini, but at the same time, they made the cooler design dual-slot; this is not a bad thing at all. Let's see how well it fairs.
The best part is the 1080p performance of this GPU. It is rather compelling, and while you are not going to get the top tier performance, tweaking the settings makes this GPU so much better. The power consumption is minimal at best, and the best part is that you do not need a cooler chassis as the GPU runs cool.
Pros
Pros
Excellent performance at the given price.
Relatively low power consumption.
Good thermals.
Great price.
Cons
Cons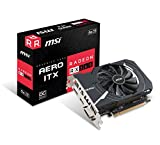 MSI Gaming Radeon RX 560 128-bit 4GB GDDR5 DirectX 12 VR Ready CFX Graphcis Card (RX 560 Aero ITX 4G OC)
Chipset: AMD Radeon RX 560
Video Memory: 4GB GDDR5
Memory Clock: 7000 MHz; Interface: PCI Express x16 3.0
Check Price
Asus Radeon RX 550: Check Price On Amazon
The last card on the list is the Asus Radeon RX 550. As we have discussed before, AMD has done a great job with their budget options, and this one is no different.
The performance on this GPU is among the best you can get for the price you are paying, and most importantly, the small form factor makes it one of the most attractive features of the card. What else is good? Let's find out.
To start with the good things, the RX 550 is an excellent card if you are looking for something that can run the eSports titles with ease. Whether you are playing Overwatch, Fortnite, or the recently released Apex Legends, you are going to have a great time.
Additionally, you can even do well with games like DoTA, League of Legends, and other eSport titles. I am trying to say here that if you are looking for a good GPU to play some entry-level games, then the Asus Radeon RX 550 is a great buy.
The power consumption is great because you will not need an additional power connector; all the power is drawn from the PCI-e connector.
As far as the downsides are concerned, I cannot think of anything that will prevent someone from buying this GPU. Sure, this GPU cannot push all the modern titles, but that is about it.
As long as you are playing games meant for such a GPU, you should not run into any issues whatsoever. Just make sure that you know what settings you should be playing at and what game you should be playing, and you would be good to go.
Pros
Pros
Excellent eSports performance.
Good price.
Low power consumption.
Runs quiet and cool.
Does not require additional power connector.
Cons
Cons
Not the fastest short GPU.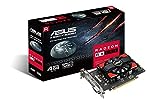 ASUS Radeon 4G GDDR5 Graphics-Cards RX 550
GPU Tweak II makes monitoring performance and streaming easier than ever, featuring Game Booster and XSplit Gamecaster, all via an intuitive interface and 1-click overclocking
Auto-Extreme manufacturing technology delivers premium quality and reliability with aerospace-grade Super Alloy Power II components
Plug & Play: Works with existing power supply with no external PCIe power required
Check Price
What to Consider When Buying a Small Form Factor Graphics Card
If you are looking to buy a sound small form factor graphics card, there are a few things that you must consider.
Sure, buying a graphics card has become a lot easier than it used to be. With only two companies dominating the entire market, making the decision is not difficult.
Still, there are some technicalities that you need to know about before you go ahead and buy the graphics card.
Below, you will find the essential considerations you will need to make when buying a graphics card.
Space And Cooling
Space is perhaps one of the most important things that you need to consider; GPUs come in all sizes, and while this roundup focuses on small form factor graphic cards, it is still better to consider these factors.
Space and cooling capacity of the case matters a lot; you cannot put a big GPU in a small case that does not even have the adequate cooling capacity.
If you are buying a small form factor GPU, you can do well with a smaller case as well; however, if the case is small and you are going for a full-sized GPU, you may want to rethink that.
Budget
Budget is a significant factor that is involved whenever you are in the market looking for a GPU. The reason being simple, if you spend 80 percent of your total PC budget on a graphic card, you will potentially end up with a powerful GPU; however, that GPU will severely bottleneck the CPU, and you will not get good performance.
Experts suggest that you must dedicate at least 30 percent of the total budget on the GPU. However, you can make changes to that. Additionally, most modern-day CPUs with 6 cores and above can handle pretty much every GPU you put with them.
Power Consumption
Another essential thing that you must consider is the power consumption of the GPU you are buying. Yes, the GPUs are becoming more and more power-efficient; however, that does not mean that we can ignore the power requirements, as they happen to be very important.
When you are considering the GPU's power requirement, you will have to compare it with the rest of the components.
The good thing is that there are so many power supply calculators available on the internet that can guide you on what amount of PSU you should have.
For instance, for a fully loaded gaming PC with an i7 8700K and a GTX 1080 both overclocked, you are going to need at least a 750-watt power supply. This power supply will be more than enough and provide you adequate headroom should you wish to upgrade in the future.
AMD or Nvidia small form factor GPUs
As I have said previously, either AMD, or Nvidia currently dominate the market. As of now, AMD does not have any direct competitor to Nvidia's top of the line graphic cards, especially small form factor graphics cards.
So, if you want the most performance out of the GPU, Nvidia is the way to go.
However, if you are looking for budget gaming, It is best to go with AMD because they are hard to beat in that category.
Form Factor
The last thing that I would ask you to consider is the GPU form factor that you are buying. The form factor is crucial because you cannot put a full-sized, 2 or 3 slot card in a small case.
The thing about small form factor graphic cards is that while they are great, they are, at times, clocked lower than the full-sized variants to keep the temperatures in control.
Conclusion – Mini GPUs
As we have discussed before, buying a low profile GPU can be a difficult thing to do. Especially when you realize that they are considered niche options, and not many aftermarket manufacturers are making them.
However, with this list, we aim to stop that issue for those who are looking for low profile options.
Sure, the list is short, but all the small form factor graphic cards that we have added have great performance and should serve you well regardless.
What Is Small Form Factor Graphics Card?
A small form factor graphics card is useful when building tiny PCs. Often used with Mini-ITX motherboards for small cases, a small form factor GPU or "Mini" GPU will usually only have one fan and often is more expensive than full-size graphics cards. In the video below, I examine the small form factor GPU I use in my small gaming rig (GTX 1650 OC) and compare it in size to a full-size GTX 1070 graphics card.
What is a Small Form Factor Graphics Card? See the Mini GPU I use for PC Gaming on a Mini-ITX Mobo
Watch this video on YouTube