If you are building a PC for gaming, sometimes you need space! Enter Full Tower case sizes! In this roundup, we are specifically looking at the best full tower case for the enthusiasts out there.
Best Full Tower PC Case 2021 Roundup Review
Cooler Master Cosmos C700M (Best Full Tower Case Overall)
Corsair Obsidian 1000D (Best High-end Full Tower Case)
​ThermalTake P5 (Open Air Design)
​NZXT Phantom 530 (Best Midrange Full Tower Case)
​Phanteks Enthoo Pro (Best Budget Full Tower Case)
Cooler Master C700M: Check Price On Amazon
Best Full Tower PC Case 2021
Cooler Master's Cosmos series was one of the revered lineups of cases until they decided to move towards some other options.
However, the company is back with it, and they have released the Cosmos C700M – a towering giant which gives you so many options that you will get tired of counting.
The Cosmos C700M offers a fully modular design which basically means that you can assemble one PC in several different configurations, no matter if you are going for vertical or standard installation.
There are a lot of possibilities that will make things easier for you, especially if you are into modding. Additionally, if you are looking to add more accessories to this case, you can actually buy them from Cooler Master's website.
It comes with large flex mount rails that are great for mounting additional drives, as well as water-cooling hardware so you can have the best possible experience with the case.
Being an ATX case, a motherboard of any size will fit into it.
The case also has room for dual 3x140mm radiators. You also get support for the latest 10GB/s USB 3.1 motherboard header, and as you would expect, the build quality is excellent and by far the best I have seen in a Cooler Master case.
Honestly, a case of this stature and price, you would be hard pressed to find any issues with the case, but there are a few.
For starters, if you go for the stock configuration, you would only be able to have three internal drives.
Additionally, Cooler Master explicitly markets that this case does support EATX. However, there are evident clearance issues when using certain EATX motherboards, so that is another important thing that one must keep in mind.
All in all, the Cooler Master Cosmos C700M is a wonderful case, that is slightly held back by some design challenges that should not come in the way.
Pros
Excellent build quality.
Great for building pretty much any system.
Modular design.
Great for both water cooling and air cooling.
Cons
In stock configuration, you will only be able to three internal drives.
Not all EATX motherboards will fit without creating some sort of obstacle.
Sale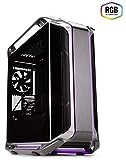 Cooler Master Cosmos C700M E-ATX Full-Tower with Curved Tempered Glass Panel, Riser Cable, Flexible Interior Layout, Diverse Liquid Cooling Layout, Type-C Port & ARGB Lighting Control
Highly versatile layout
Graphics Card mounting with riser Cable
Argo lighting; Expansion Slots: 8
Check Price
Corsair Obsidian 1000D: Check Price On Amazon
Best High-End Full Tower Case 2021
I was really excited when Corsair revamped the Obsidian series in 2018.
Especially when you consider the fact that the Obsidian series is the most-premium lineup Corsair has to offer and offers some of the best design element.
Obsidian cases are both form as well as function, so if it is the best of both world you are looking for, you will get it with the Obsidian 1000D.
Moving on, the thing that you need to know about this case is that it is absolutely massive.
How big, you may ask? Well, it is big enough for 2 fully functioning systems, and you would still need to fill up more space should you wish to go for that.
Really, it looks like that this case is built for people who want to build 2 computers, but do not want to have the inconvenience of buying another case.
As far as the customization options are concerned, Corsair has done right for those who are looking to ensure they have a lot of options. You get removable fan mounts for easier access and trust me, there are a lot of fans you can install in this case.
The one thing that you absolutely need to make sure is that if you are not planning a water- cooled or a dual system build into this case, then do not buy it because even with the biggest EATX motherboard and a lot of fans and drives, this case will look empty.
As far as the thermals are concerned, the case has no issues pushing or pulling out air thanks to the sheer size.
However, be prepared to buy a lot of fans if you want to have a proper air pressure because without that, you will be left with a massive room with not a lot of air, and that is never a good idea.
The Corsair Obsidian 1000D is not the case you would buy for the sake of it unless you have a lot to fill the case with.
Related: Best RGB Full-tower PC Cases
Pros
Lots of customization.
Easy to build in.
Looks absolutely stunning.
Can host two fully functional, powerful computers.
Cons
Can easily be an overkill in most of the situations.
ThermalTake P5: Check Price On Amazon
Best Full Tower Case 2021 With Open Air Design
ThermalTake had (kind of) lost their touch in some of their older products. However, they are slowly recovering and bringing in better and better products.
Thermaltake P5 is an open-air chassis which is meant to be mounted on the walls.
I know the design idea might seem a bit outlandish, but if you are looking to build a PC for the sake of performance, you are going to love it.
You get a convenient I/O panel that has four USB ports, and while I am sad to see that a front panel USB Type C is missing, it is still convenient.
The case itself is a full tower and is capable of holding a lot of hardware, but do keep in mind that the mounting positions are limited at best.
The case, or should I say the lack thereof is built for water cooling enthusiasts so I would say that using this for anything else than an open loop liquid cooled build would be a waste of money.
Of course, there are some downsides to the otherwise amazing ThermalTake P5.
If you are looking t​​o install AIOs, the support is limited at best, and considering the fact that this case is an open-air design, you will have to be ready for factors such as dust, as well as EMC.
Not to mention, there will be no sound insulation.
Overall, I would say that aside from some minor concerns over dust management, and EMC, the ThermalTake P5 is a wonderful case that will serve well to anyone who is looking to build a great gaming PC in a good budget.
Sure, you might find it a bit hard to maintain, but if you are a water cooling enthusiast, you will feel right at home with this case.
Pros
Excellent, and unique looks.
Great for liquid cooling.
Can be mounted on the wall.
Can hold pretty much every component you think of.
Cons
Limited support for AIOs.
Open air design gives a lot of challenges regarding dust, noise isolation, and EMC.
NZXT Phantom 530: Check Price On Amazon
Best Midrange Full Tower Case 2021
For the longest time, NZXT has been one of the best manufacturers for PC cases. I really love their H series, but today, we are looking at something different.
The NZXT Phantom series is mainly their high-end lineup of cases, consisting mainly of some of the best full towers.
For this review, we're looking at the NZXT Phantom 530; a budget-oriented full tower designed for gamers who want a lot of flexibility in terms of hardware installation, and additionally, a fairly aggressive design that pleases the gamer in most of us.
It is somewhat older as compared to other options in this roundup but it does offer an impressive range of features that are trickled down from some of the higher end cases by NZXT.
That is certainly a good thing because you will not have to shed a lot of money on this.
Additionally, there is plenty of room for hardware, and even if you do not want to go towards the traditional cooling system, you can do some really great stuff. The overall cooling potential of this case is phenomenal and should serve both air cooling and water cooling enthusiasts alike.
While the Phantom 530 is easily one of my favorite cases available in the market, it does have some issues that I would like to mention.
For starters, most of the exterior is plastic, and while I do not mind plastic, it can look a bit out of place. Additionally, the case only ships with 2 fans, so if you are considering to have an air-cooled system, you are going to n​​eed m​​ore fans.
Overall, it gets the job done in almost all the aspects and does not create too many issues.
Pros
Excellent cooling performance.
Angular looks are sick.
Great potential for all hardware.
Good build quality from the interior.
Cons
The plastic panels on the outside are finicky at best.
Only two fans out of the box.
Phanteks Enthoo Pro: Check Price On Amazon
Best Budget Full Tower Case 2021
Phanteks have been making some amazing cases for some time now, and they are always ready to serve the gamers with the best possible options.
Phanteks Enthoo Pro delivers one of the best build qualities. The chassis is almost made out of all metal, meaning that you will not have to worry about plastic bits coming into your way, and ruining the overall cohesion element of the build.
Considering how it is a full tower and not a mid-tower, there is enough expansion available for literally any hardware size.
You can build a beast of a PC in this case, and it is entirely up to you whether you want a water cooler PC, or an air-cooled PC because the case is optimized for both.
I love how Phanetks is so considerate and adds a small accessory box in which all the screws are neatly placed in their respective compartments.
I know this is not something to write home about for many people, but it is a nice touch to see manufacturers further refining the overall unboxing and building experience.
Overall, Phanteks Enthoo Pro is one of the best-looking cases available in the market, with some concerns that I would like to discuss.
In a market where cases with tempered glasses are selling like hotcakes, it is kinda odd to see the Enthoo Pro trying to make a mark for itself.
If tempered glass is a feature that does not concern you at all, then I would suggest you go for the Phanteks Enthoo Pro.
Pros
Signature Phanteks build quality.
Great value for money.
A joy to build in.
Great for all sorts of builds.
Cons
Benefits of Buying a Full Tower Case in 2021
I remember a few weeks ago, I was building my PC, and instead of going with a mid-tower, which would have made more sense to some people, I went with a full tower case.
Criticism aside, I actually did not really understand the purpose myself, but after using the case for over a week, I can say that I made the right decision.
Over time, I grew a fondness towards my decision, and one of the reasons why a full tower looks so good is because it complements the overall size and stature of my Asus PG348Q gaming monitor, which is a monster in its own right.
As far as the benefits of a full tower are concerned, you can check them out below for a better understanding of why I am suggesting you a full tower instead of a mid-tower case.
Full Tower Cases Look Stunning
If you are the type of person who would like a case for its sheer size, then I would definitely suggest you go with a full tower case.
The reason is rather simple to understand; these cases look absolutely stunning; not just with completed builds but even without them.
I currently own a ThermalTake View 71 TG, and I have to say, whether you have built a system inside of it, or not, it looks stunning.
Incredibly Amount of Customization
Okay, I know that you can customize mid-tower cases as well, but the thing with those is that sooner or later, you end up hitting a roadblock, and from that moment, you run out of options to customize.
However, this rule does not apply to full towers or super towers, all thanks to their stature.
You can either go ahead and mod the case, or just put in your favorite figurines in the case that match the overall theme, and color scheme of your build quality.
Great for Cable Management
Okay, this is more of a subjective statement, but as someone who has owned both mid-towers and full towers, I can wholeheartedly attest to the fact that full towers are always better for cable management as compared to the mid-tower.
Another benefit is that if you have one of those cases that have tempered glass panels on both sides as well, you can polish your cable management skills, and turn the back of your PC into a showpiece.
Sure, it will take a fair bit of patience, but you will be skilled in no time.
Great Thermals
This is something that many people overlook entirely; the situation with a full tower case as compared to a mid-tower case is that full towers are great when it comes to thermals.
The reason behind that is rather simple, there is so much room for fresh air to come in, and hot air to go out, that you really do not have to worry.
However, since the full towers are on the bigger side, you are going to need faster, more powerful fans so they can push the air in.
Great for Water Cooling as Well as Air Cooling
Does not matter if you are planning on air cool your system or water cool it, full towers are great for both purposes.
I know it might sound like a fantasy, but if you do not want to go for open or closed loop liquid cooling, you can always opt for air cooling.
However, if you are going for air cooling, I would suggest you opt for fans that are higher in RPM, because the faster they rotate inside a case, the more air they can push, as well as pull.
Can Fit Literally Anything
There is a very famous saying in the PC market that goes "there is no such thing as future proofing", and while I used to agree with that saying. The thing is that when it comes to cases; literally everything is about future proofing.
Sure, you might be comfortable with a mid-tower mainly because of the compactness, but you might not be able to fit components that are larger than usual.
Therefore, if it is future proofing you are after, nothing will beat a full tower.
Conclusion
Despite being notorious for their sheer size, full tower cases are still as popular as they used to be in the older days. Why else would manufacturers bring them out into the market?
If you are looking for a full tower case, you will definitely have a lot of expand-ability, or future proofing if you want to be more dramatic.
Now if I am to pick my top pick for the best full tower case that is available in the market, I would say that the Corsair Obsidian 1000D is the best high-end full tower case available in the market.
Simply because of the sheer size, and not just that, you can build 2 fully powered, and functional gaming PCs into one giant case.
Additionally, the case is an absolute, monolithic beauty, and I can assure you that you will have a great experience building in the case.