A webcam is a small device attached on top of your computer. This is basically a camera for your PC and used for many purposes like capturing your photos, and making video calls etc.
As for gamers, they might want it for YouTube Facecaming, twitch streaming, and stuff like that.
Although most laptops nowadays come with a built-in webcam (average quality, to be honest), the option for external webcam is still very common among desktop PC users.
How To Choose A Webcam
Below are some of the common points you need to keep in mind while searching for a webcam.
Types of Webcams
There are different types of webcams available in the market. Some of the common types are Freestanding and clip-on webcams.
As their names imply, freestanding webcams stand on their own. Clip-on webcams, on the other hand, need to be "clipped" on the monitor. In between there are a few convertible options that can act both as a freestanding, and a clip-on webcam.
Resolution and Frame Rate
Resolution is a very important factor while you're looking for a webcam. It's because the resolution is what separate a high quality webcam from a bad one. Like cameras, webcams' resolution is measured in pixels.
A webcam with more pixels will provide a clearer image than a webcam with less pixels.
Most basic webcams come in VGA resolution and go up to 1920 x 1080, or HD resolution. For professional purposes, it's good to start from 640 x 480 resolution or better.
Apart from the resolution, the other thing we'll talk about here is the frame rate. Frame rates are the one factor through which, it can be determined how "smooth" a video will be. In basic terms, frame rate is the rate at which images are displayed in a video.
Needless to say, a 40 FPS video is better than a 20 FPS video. While considering a webcam, make sure it provides at least 25 FPS video.
Sensor
Although the resolution should be taken seriously, you can't really ignore the sensor quality while looking for any photography-related device.
A sensor play a major role in sharpening the videos. The two mostly used sensor types in webcams are CMOS and CCD sensors. CCD sensors are usually better but slower in producing output, whereas the CMOS sensors are fast, low-quality and less-expensive.
Lens quality
Lens is a curved component that captures the light coming into the webcam. This light is then analyzed by the sensor for further processing.
In webcams, there are two types of lenses available. First one is the glass lens. These lenses give high-quality images but are a little expensive. The second type is plastic lens. These lenses have low-quality generally, but are cheaper than glass lenses.
That's why plastic lenses are normally used in low-end webcams.
Low-light quality
Not everyone has a pro-grade lightning in his/her room. That's why it's better to check video quality of a webcam in low light. It's because they're a very few webcams that can give good videos in low lights as well as in high brightness.
Some Other Bells and Whistles
Here are some of the advanced features found in expensive webcams. You won't probably need all of these features, but it's better to have them in your arsenal.
AutoFocus. AutoFocus is a cool feature which enables a webcam to focus a particular object, and change that focus according to the movement of the object.
Digital Zoom. Digital Zoom allows a webcam to enlarge an image area from the center. This cause the overall image to looker bigger. It can also result in quality-loss of that video too, however.
Optical Zoom. While digital zoom can potentially result in bad video quality, it's not an issue in optical zoom. For optical zoom, a lens changes its position to zoom in and out.
Face Tracking. Face tracking enables a webcam to focus on the face(s) of one or more objects in the video, and blur the background.
Built-in microphone. If you want to have your voice recorded too, while you're using a webcam, then make sure it has a built-in microphone. It definitely won't be as good as a dedicated microphones, but will do the job.
Connectivity Options. There are different connectivity options available among webcams. First one is the USB 2.0/3.0 connection. It's a reliable option, but wired too. That's why you need to make sure you webcam has a decent-sized cable. Bluetooth and WiFi options are also available but they're less reliable than the USB connectivity.
Logitech Webcam C922x Pro: Best Webcam For Gaming
Logitech C922x is a newer version of the earlier released C920 webcam. Released in 2012-13, C920 is considered as one of the best webcams, even in 2019.
But a lot has been changed since its release. That's why Logitech has made some tweaks and refinements in it, and released it as C922x Pro. Let's find out why we consider it as the best webcam for gaming.
Design
From design, it resembles a lot to the C920. So much is the resemblance that they look like identical twins.
It has a rectangular shape, with a lens in the center and dual microphones on its left and right sides. The only noticeable change you'll notice here is the placement and prominence of the Logitech Logo.
This time, the logo is next to the lens, and is Bold and standing out. Other thing you'll notice is the glossy black finish around the lens.
Next comes the mount, which (like the upper part) also has C920's L-shaped joint. Apart from attaching it on your monitor, you can also mount this webcam on a tripod, which Logitech includes as an accessory.
The one and only bad aspect I found in design is the cable connecting webcam to the PC. The C920 had a thin and rubbery cable, and it remains so even in C922 Pro. That being said, I was happy to find out that this USB cable is 6-foot long.
Other than this, I'm pretty satisfied with the design. You'll notice here is that Logitech has played safe in this webcam, and didn't try to tinker too much (whether it's a good/bad approach, is another matter though).
Features
In features area too, Logitech has retained most of features of C920 in C922 Pro. 720p and 1080p video recording is available, in addition to the new 60 fps video recording in 720p.
For low-light situations, you can tweak the contrast level and the brightness, thanks to its companion software. Since we're talking about its software, it's worth mentioning some of other cool things you can do with it.
First of those software features is the background removing, which enables you to entirely remove background from your video. Also, if you want to replace your background with another one (like the green screen effect), you can do that as well. I have tested this feature and its work pretty efficiently.
One thing you need to make sure for this feature to properly is to have a fast enough CPU, or make your existing CPU faster.
This model handles image correction better than its predecessor. That's why images captured in this one, are a bit brighter.
Bottom Line
This webcam is definitely great for the gamers who want to dig into YouTubing and Twitch, and that too on a reasonable budget. Its video quality is one of the best in webcams, and its low light performance isn't too shabby either.
Pros
checkExcellent low-light capabilities
checkBackground removal and 720p/60 fps streaming are good add-ons
checkBetter image correction than its predecessor
checkBest webcam for YouTube as well as Twitch
checkCan also be mount on a tripod
Cons
Background removal is slow and error-prone
The design area could've a more extensive overhaul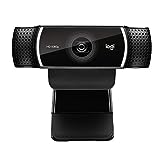 Logitech C922x Pro Stream Webcam – Full 1080p HD Camera
Web camera specifically designed and optimized for professional quality video streaming on social gaming and entertainment sites like Twitch and YouTube
Stream and record vibrant, true to life HD 1080P video at 30Fps/ 720P at 60FPS. Compatibility Windows 7, Windows 8 or Windows 10, macOS X 10.9 or higher, XBox One, Chrome OS, Android v5.0 or above, USB port. FoV: 78 degree
Full HD glass lens and premium autofocus deliver razor sharp, clear video in consistent high definition while 2 built in mics capture your voice in rich stereo audio
Check Price
Check Price on Amazon
Some Other Alternatives Worth Looking
Although C922x from Logitech is our favorite webcam for YouTube (plus many other things), there can be some reasons why you don't like it.
For those people, and also because we don't want this post to be only a single-product review, here are some of the other options worth mentioning. Since we didn't personally reviewed these webcams, we didn't write the traditional review about these.
Instead, we scoured the web, find the opinions of people who actually bought them, and put it in an easily digestible list-form. So, here they are:
Logitech HD Pro C920 – Less Price Less Features
C920 webcam is the predecessor of the C922x Pro. Being released in 2013, it may feel not as excited as its successor. However, it still a good option for those who can't afford the C922x.
Here are some of its highlights we have found.
Highlights
1080p video calling over Skype, and HD video recording.
It comes with built-in dual stereo mics with automatic noise reduction.
Sharp images, and wide viewing area.
Automatic low-light correction
Recorded audio can sound a bit dull.
Software needs some polishing.
Sale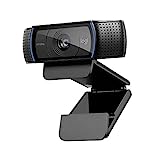 Logitech C920 Hd Pro Webcam (Black) Black
Full HD 1080p video that's faster, smoother and works on more computers. Skype in Full HD 1080p Get breathtaking Full HD 1080p video calls on Skype for the sharpest video-calling experience. Smoother. Sharper. Richer. Clearer. Logitech Fluid Crystal Technology. It's what makes a Logitech webcam better.
Logitech partnered with Skype(TM) to deliver high-definition 1080p resolution with the C920 webcam
Record videos in widescreen Full HD 1080p at 30 frames per second
Check Price
Check Price on Amazon
Microsoft LifeCam HD-3000 – A Budget Webcam
This is the ultimate "cheap" webcam we found good enough for gaming. I mean it costs less than 25 bucks. What can you ask more?
Being cheap doesn't mean it's crap though. Its good enough for your average needs. It just don't have bells and whistles of other two webcams mentioned above.
Highlights
Its Flex-mount can double as a camera stand.
HD video recording in a really low price.
Color-contrast correction technology.
The camera is small.
No Vertical tilt.
It's tough to fit it perfectly on your computer screen.
Sale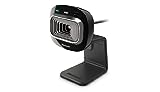 Microsoft LifeCam HD-3000 for Business
True 720p HD Video – Post true HD video to online video sites.
16:9 Widescreen – For cinematic video recording.
Clear, High Quality Video
Check Price
Check Price on Amazon
Conclusion
Alright, these were our recommendations about gaming webcams. If you want us to include any other webcam in this list, then make sure to comment below and let us know your thoughts.