Ryzen 3000 CPUs are talk of the town ever since their release back in this July, and like other websites, we've written quite a lot of stuff about them lately. You can read about them here, here, here, and here.
Out of all these 3rd-Gen CPUs, Ryzen 7 CPUs are probably the ones that got most attention by the PC community – apart from Ryzen 3950.
The reason is quite simple: their price range makes them the direct competitors of the Intel i7 line-up. And thanks to a number of advantages, it looks like Ryzen is beating Intel on this front.
Among the two Ryzen 7 CPUs, 3700X got even more praise due to its TDP of just 65 Watts, despite having 8 cores and 16 threads. Ryzen 3800X, its big brother, has almost identical specs except for a slight increase in base and boost frequencies, double L3 cache, and a TDP of 105 watts.
Best CPU Coolers For Ryzen 3700X And 3800X
Noctua NH-D15, Premium CPU Cooler with 2X NF-A15 PWM 140mm Fans (Brown)
Scythe Mugen 5 Rev.B CPU Air Cooler, 120mm Single Tower, Intel LGA1151, AMD AM4/Ryzen
be quiet! Dark Rock Pro 4, BK022, 250W TDP, CPU Cooler
Corsair iCUE H115i RGB Pro XT, 280mm Radiator, Dual 140mm PWM Fans, Software Control, Liquid CPU Cooler
(Best Cooler For Ryzen 3700X And 3800X)
(Best Budget Cooler For Ryzen 3700X And 3800X)
(Alternative to Noctua NH-D15)
(Best AIO Cooler For Ryzen 7 3700X And 3800X)
Noctua NH-D15, Premium CPU Cooler with 2X NF-A15 PWM 140mm Fans (Brown)
(Best Cooler For Ryzen 3700X And 3800X)
Scythe Mugen 5 Rev.B CPU Air Cooler, 120mm Single Tower, Intel LGA1151, AMD AM4/Ryzen
(Best Budget Cooler For Ryzen 3700X And 3800X)
be quiet! Dark Rock Pro 4, BK022, 250W TDP, CPU Cooler
(Alternative to Noctua NH-D15)
Corsair iCUE H115i RGB Pro XT, 280mm Radiator, Dual 140mm PWM Fans, Software Control, Liquid CPU Cooler
(Best AIO Cooler For Ryzen 7 3700X And 3800X)
At the time this post is written, the Ryzen 7 3700X costs 329 bucks, while the 3800X costs 70 bucks more due to extra goodies.
Both of these CPUs come with a bundled cooler, which'll get the things going for the most part, but you might want to look into other options as well due to a variety of reasons.
This is reason why we came up with this post: best CPU cooler for Ryzen 7 CPUs
Best CPU Cooler For Ryzen 3700X And 3800X
All of these three coolers are tried and tested by us as well as the hundreds of other PC builders, and we think they'll allow you to fully utilize the power of the two beasts mentioned above.
Noctua NH-D15
Best CPU Cooler For Ryzen 7 3700X And 3800X
For many PC builders, the Noctua brand is synonymous with PC cooling. Although they make many other things, CPU coolers are their main claim to fame (probably in addition to their thermal pastes).
Coming back to our topic, the NH-D15 is the successor to the earlier released NH-D14 cooler. NH-D14 was a great cooler itself, so let's see how its successor goes.
For the installation, you get all the mounting kits (for both AMD and Intel), thermal paste, an extended Philips screwdriver, voltage regulator cables, the cooler itself (with one fan pre-mounted), and an extra fan.
Being a dual-fan cooler, you can install the extra fan for extra cooling but it'll also increase the height of the cooler – up to 165 mm – which may cause RAM clearance issues. Noctua has tried to eradicate this issue by making the two sides asymmetrical here, but it's good to be aware beforehand.
Like Be quite's dark pro 4 (which we've discussed below), this one is on the heavier side among CPU coolers and weighs 1.32 KG with extra fan installed.
Design is also pretty much same with both of them having two sets of fins stacked by aluminium heatpipes (with a fan installed in the middle and front), and the only difference is the number of heatpipes. NH-D15 has 6 of them, while the Dark Pro 4 has 7.
The base and the heatpipes are made up of copper, with base having the nickel planting on top as well, while the fins are made up with aluminium. Thanks to all of these components, this cooler is really tough, and comes with whopping 6-year Noctua warranty.
Overall, besides the color scheme which could've been made better, there's no fault we could find in this cooler. You can buy some other fans of different colors separately sold by Noctua, but it doesn't really solve this mild hiccup.
With that being said, when it comes to the actual performance, NH-D15 is better than any air cooler in the market as of now. Although Noctua has put more effort here in making space for high-profile RAM sticks, you do get a silent, high-end performance.
So, if design isn't really a big issue for you, this is the best CPU cooler for Ryzen 3700X and 3800X CPUs. And if you think otherwise, then you can obviously consider the Dark Pro 4.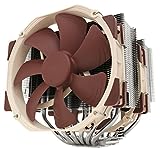 Noctua NH-D15, Premium CPU Cooler with 2X NF-A15 PWM 140mm Fans (Brown)
State-of-the-art dual-tower design with 6 heatpipes and 2 fans provides class-leading cooling performance for overclocking or near-silent systems
Successor of the classic NH-D14; more than 250 awards and recommendations from leading international hardware websites and magazines
2 highly optimised NF-A15 140mm fans with PWM support and Low-Noise Adaptors for automatic speed control and ultra-quiet operation
Check Price
Check Price on Amazon
Scythe Mugen 5
Best Budget CPU Cooler For Ryzen 3700X And 3800X
Scythe has been making PC components for more than 20 years, and they've gained quite a lot of reputation when it comes PC cooling products (case fans as well as air CPU coolers).
Their Mugen 5 (Rev. B) cooler is the latest product in the Mugen line-up which has seen a number of successful cooler in the form of Mugen 3 and Mugen 4. So, in Mugen 5, Scythe has tried to put all the improvements of their previous models. Let's see how this approach goes.
The first good thing I found here is that you get a lots of accessories with this cooler. Besides the cooler itself and a 120mm stock fan, you get the mounting hardware for both AMD and Intel CPUs, thermal paste (so you won't have to buy your own), and even a basic screwdriver.
In terms of design too, it looks very good. You get a set of evenly spaced-out 38 fins and six large heatpipes making their way through their middle.
These pipes are connected with each other under the base which is where this cooler will make contact with the your Ryzen 3700X or 3800X. The fins as well as the heatpipes are colored silver which contrast well with the matte black color of the fan.
Thanks of its offset base, RAM clearance is not an issue even if you get some tall sticks. That being said, if you buy a 2nd fan and install it in this cooler, it may cause some issues as this'll use some more space.
Other than this, with this cooler having a height of 154mm, you'll need to make sure that your chassis has often space.
Overall, we're pretty satisfied with the Mugen 5. It performs very good as a 120mm CPU cooler, looks pretty good, makes noise only at minimum level, and will handle the heat well if you limit yourself to some mild overclocking.
Coming at slightly more than 50 bucks, it's good budget option for those looking for a budget 3rd-party CPU cooler. We also recommended it as a budget cooler for Ryzen 3900X, so there's no reason for it to not do well with Ryzen 7 CPUs.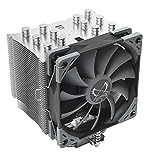 Scythe Mugen 5 Rev.B CPU Air Cooler, 120mm Single Tower, Intel LGA1151, AMD AM4/Ryzen
Quiet 120mm Kaze Flex fan (Fluid Dynamic Bearing) for high airflow and static pressure with silent operation(PWM, 300-1200RPM). Addition fan clip for adding 2nd fan(optional) as push-pull configuration for maximal performance.
RAM modules with tall heatsink are no problem for the Mugen 5, the asymmetric design allows unrestricted access to the memory banks. Classic size CPU fan stands 154.5mm in height, Mugen5 offers great compatibility with most popular computer case on the markets.
Secure and easy-to-install spring loaded mounting system compatible with socket INTEL LGA 775 / 1150/1151/1155/1156 / 1200 / 1366 / 2011(V3) Square ILM / 2066 Square ILM & AMD AM4 / AM3(+) / AM2(+) / FM2(+) / FM1
Check Price
Check Price on Amazon
be quiet! Dark Rock Pro 4
Pro 4 by be quiet! is the latest model in Dark Pro line-up. It's a dual-tower CPU air cooler which makes it the direct competitor to the Noctua's NH-D15.
Open up its box and you'll get some mounting brackets for both older and current sockets (for both Intel and AMD), two Silent Wings fans (the 120mm fan at the front is mounted already, but the 135 mm fan comes separated), a 4-pin PWM fan-splitter, a long screwdriver, two sets of fan mounting wire bracket, as well as some thermal compound for installation.
Thanks to its all-black color scheme, like all other be quite! coolers, it looks gorgeous and will blend well with the overall scheme of your build. Weighing 1.3 Kg, it's quite heavy but equally tough.
Design wise, it consists of ninety aluminium fins stacked on seven 6 mm copper heatpipes in a U-shape design. Having the smaller fan at the front helps in avoiding any RAM clearance issue.
The installation process isn't not too simple and in case you're not so well-versed, this video will help you in getting the job done.
In terms of performance, dark pro 4 went mostly impressive and can easily match even the premium AIO coolers in the market.
Thanks to its silent wings fans (you can even add a 3rd fan of your won if two aren't enough) it's one of the quietest air coolers you can have on your Ryzen 3700X. And the TDP of 250 watts means that overclocking is simply not an issue.
One minor downside I noted in this cooler is the fragile ceramic powder coating which is removable by scratching and ultimately makes it fall just a fraction short of Noctua NH-D15 – the best CPU cooler for both Ryzen 3700X and 3800X.
On the other side, it looks much more beautiful than the NH-D15, at least for me.
Coming in at almost 90 bucks, this cooler isn't for budget builders but you really get what you pay for, and it's worth a shot unless you're looking to build a SFF PC (which you shouldn't do with a Ryzen 7 CPU).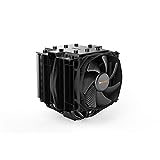 be quiet! Dark Rock Pro 4, BK022, 250W TDP, CPU Cooler
Two virtually inaudible silent Wings PWM fans
Funnel-shaped frame of the front fan for high air pressure
Achieves only 24.3Db(a) at maximum fan speed
Check Price
Check Price on Amazon
CORSAIR H115i RGB PRO XT
Best Liquid Cooler For Ryzen 7 3700X And 3800X
When this post was initially published, all of our picks were air coolers.
And when some of our readers asked us about liquid cooling cooling for Ryzen 3700X and 3800X as well, we decided to include an AIO cooler.
So, here it goes.
H115i Pro XT is one of the three AIO coolers Corsair released at CES 2020, along with the H100i Pro XT and H150i Pro XT.
Since the H100i and H150i offer 240mm and 360mm radiators respectively, we decided to be somewhere in the middle and go for H115i (which features an 280mm rad) as the best AIO cooler for Ryzen 3700X or 3800X.
The biggest change you'll notice in this Pro XT lineup is the fact that all of them feature non-RGB cooling fans. Although this may turn off some of you folks, putting non-RGB ML fans has enabled Corsair to manage the overall cost, and it also speeds up the installation process because you don't have extra RGB wiring to take care of.
That being said, you still get some lighting on the pump head which can be further tweaked with the help of iCUE software.
In recent times, there's been quite a lot of debate among PC builders regarding which cooling method is better: air or liquid cooling.
One big argument they put against AIO coolers is that they generate more noise than HSF coolers on average. That's why I was happy to learn that this cooler comes with a Zero RPM mode which allows the fans to completely stop if there's not much load.
When compared with other CPU coolers for performance measurement, we found interesting result.
When paired with 3700X at base clock of 3.6 GHz and full load, it managed to beat the likes of Noctua NH-D15 and H100i RGB platinum; and performed decently overall.
When we increased the frequency of 3700x to 4.4 GHz, it performed even better and only Deepcool Castle 240EX and Arctic Liquid Freezer 240 II went better in this regard.
All in all, H115i Pro XT offers an improved thermal performance as compared to previous-gen Corsair coolers, thanks to CoolIT pump design. Also, it offer bigger surface area which helps in cooling large-sized CPUs, such as Ryzen Threadrippers.
One downside of this powerful performance is that this cooler produces slightly more noise when the fans hit full speed, and this is something you have to keep in mind before making the purchase.
If low noise is your main requirement then Arctic Liquid Freezer II will be better for you. However, if you're already surrounded by other corsair products, H115i Pro XT will be a good option.
Another thing you might sure is your PC Chassis' compatibility. Since it comes with a 280mm rad, you need an matx case or bigger to fit into. A good idea would be to check the specs-sheet of your case before anything else.
Sale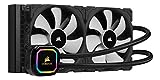 Corsair iCUE H115i RGB Pro XT, 280mm Radiator, Dual 140mm PWM Fans, Software Control, Liquid CPU Cooler
Two 140mm Corsair ML series magnetic Levitation PWM fans deliver improved airflow for extreme CPU cooling performance
16 individually addressable RGB LEDs light up the pump head to produce stunning customizable lighting effects to match your build
Experience incredible cooling performance with each Fan running from 400 to 2 400 RPM while in operation
Check Price
Check Price on Amazon
Conclusion
So these were some CPU coolers we thought to be good to be paired with the latest Ryzen 7 CPUs. In case you've tried one of these, or want to mention any other good cooler for us to include in this list, feel free to mention in the comments below.