If you're like me, 2020 has been a year of anticipation for one reason: the GeForce RTX 3080 series. Leaked data and images from NVIDIA suggest it's the upgrade of the century.
Here, I'll share what I like as the best CPU for RTX 3080 or RTX 3080 Ti. Let's get into it.
Why the GeForce RTX 3080?
NVIDIA's advances in graphic cards won't surprise anyone who has followed the GPU industry all these years. For hardcore gamers, professional designers, and content creators in 2020, opening up a box of GeForce RTX 3080 is like Christmas, birthday, and job promotion, all rolled into one.
NVIDIA always finds a way to push the boundaries a bit further out with every new release. Two years ago, it launched the magnificent RTX 20-series. The RTX 2080 and its accompanying RTX 280 Ti series, powered by the Turing architecture, were popular for bringing ray-tracing to mainstream gaming.
Not sure what ray-tracing is? Well, it's the technology that enables your computer to generate hyper-realistic and detailed images during gaming.
In 2020, NVIDIA is taking another technological leap with the RTX 3080 & RTX 3080 Ti series launch. Like the series before it, the new GeForce RTX series will use a new next-generation architecture called Ampere.
Ampere first appeared on the NVIDIA's DGX A100 supercomputers in May 2020. It will be the first time the popular graphics card manufacturer will use a 7nm manufacturing process for its GPUs.
NVIDIA claims that Ampere is the "largest GPU chip ever designed." It promises a juicy 1.6TB per second of memory in bandwidth. If all these specs turn out to be accurate, the new GPUs will get a massive boost in video memory.
I like that this new architecture might also deliver a 50% improvement in performance than the Turing line at half of its power needs. These two attributes make the new GPU attractive to designers and hardcore gamers, like yours truly.
Here's what I know so far about the new hotshot:
GeForce RTX 3080 Specs
According to leaks, the RTX 3080 will come loaded with specifications that would make the RTX 2080 overheat with envy:
It'll have 5376 CUDA cores.
A base memory of 10GB GDDR6X that could go as high as 24GB for specific models
Frequency of 1410MHz that you can boost to 1740 MHz
Dual-slot GPU
160 ray-tracing acceleration cores
A 12-pin 4.0 compliant PCle power system that can deliver upwards of 500 – 600 Watts of power
Three DisplayPort 2.0 ports, one HDMI 2.1, and one USB-C port
Dual-slot cooling fans to mitigate issues like overheating
Here's something to note; these are all still leaked information. No one is sure about the exact specifications of the RTX 30-series. However, one thing is clear: It will beat the RTX 2080 Ti performance-wise.
How Much Will the RTX 3080 Ti Cost?
The RTX 3080 Ti is and the rest of the series is NVIDIA's top of the line segment of gaming graphics cards. Gamers and designers should expect to pay a premium to buy any of these beauties. The RTX 2080 Ti pricing is currently at that range, so I expect these next-generation cards to be no different.
RTX 3080/3080 Ti Performance
Going by its specifications, these set of new cards promise to be a belter for hardcore gamers. Starting with the overheating commonplace with the NVIDIA RTX 2080 Ti Founders Edition, I like that NVIDIA has put that issue to bed with the RTX 3080/3080 Ti.
Based on the various leaks floating around the internet, the new card will have fans on each side, pushing air through the heatsink. There are also rumors that the base models will sport 320W thermal designed power (TDP). It would turn the new card into a performance beast.
Based on the GA102 processor, the RTX 3080, and RTX 3080 Ti will have a die area of 627mm². It will also have 40,000 million transistors. Combined with the DirectX 12 Ultimate API, it significantly upgrades the cards' ray-tracing performance, rate-shading, and the encoding and decoding of high-level resolutions in any upcoming game titles. I like that NVIDIA ha pulled out all the stops here.
If you consider tipster @_rogame's disclosure of RTX 3080 first public benchmark test (they have since deleted the report), we can expect a graphics card that significantly bests the high-end performance of the Turing-based RTX 2080 and RTX 2080 Ti. The former NVIDIA GPUs hit 2.1GHz when overclocked. With the new NVIDIA cards, this seems to be the base performance.
It will supposedly run at speeds of 2.1GHz while featuring 19Gbps GDDR6X memory and 455.90 drivers. The figures are promising, and something gamers won't just like but love. With the boost in memory and drivers, the clocking speed on the newly launched versions might increase significantly.
The leaked images have also generated some negative buzz online due to its "purported" utilitarian design. Popular PC and gaming sites such as Windows Central have stated unequivocally that the new card isn't "pretty." These comments come as no surprise, considering NVIDIA's use of five-sided heat sinks, striated lines, and funny-looking fan design. But if you like graphics cards for performance rather than aesthetics, the design shouldn't be an issue.
No matter how I might feel about the new design, it's clear that the next-generation cards will be a massive upgrade on the current RTX 2080 Ti series. There also seems to be some method to NVIDIA's supposed design "failure."
For example, the striated lines will help with dissipating heat, guaranteeing better performance. I am particular about this feature – overheating has been one issue I have struggled with on my current GPU. Don't ask me what I am using, though!
Some Frequently Asked Questions
What Is the Best CPU for RTX 2080 Ti
The Intel Core i9 i9-9900K seems to be the best fit for the super-build RTX 2080 Ti. I like that it supports Deep Learning Super Sampling (DLSS) and ray-tracing for your future game titles. It also supports overclocking, and the fan won't raise a storm while trying to cool down.
Which Is the Best: RTX or GTX?
The fact that RTX supports ray-tracing and DLSS is enough reason to buy an RTX GPU over a GTX GPU. While both GPUs are undoubtedly fast, most users like RTX over the GTX hands, especially if you plan to play 4K gaming.
Can GTX Use RTX?
As of 2019, NVIDIA started shipping GeForce GTX cards that could run RTX. These cards can run basic ray-tracing without slowing your game's framerate to a crawl.
Before you go ahead to invest in the new GPU, you need to ensure you have the right type of computer processing unit (CPU).
Why might you ask?
Neither you nor any other gamer wants to go through the dreadful experience called CPU bottlenecking.
CPU bottlenecking occurs when you install a high-end GPU in a CPU that doesn't have the specifications needed to support such graphics power. High-end GPUs include anything like the RTX 2080, RTX 2080 Ti, or the soon-to-be-launched GeForce RTX 3080. The same thing happens to a GPU when you install a budget card on a high-end CPU. That's called GPU bottlenecking.
So, to avoid CPU bottlenecking, what are the best CPUs on the market for the RTX 3080/RTX 3080 Ti?
Best CPUs for RTX 3080/RTX 3080 Ti in February 2021
1. AMD Ryzen 9 3900XT 12-Core
Pros
It supports PCIe 4.0, which is perfect for the next NVIDIA series.
The AMD CPU clocks at 3.8GHz, but in Boost mode, it can get up to 4.7GHz, which is perfect for the 7nm chips' needs.
Its 12 cores and 24 threads guarantee you enough power to handle all the new series throws at you.
Cons
No cooler in case of overheating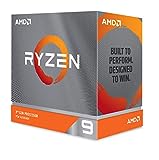 AMD Ryzen 9 3900XT 12-core, 24-Threads Unlocked Desktop Processor Without Cooler
The world's fastest 12 core processor for mainstream desktop, with 24 procesing threads
Can deliver ultra-fast 100+ FPS performance in the world's most popular games
Cooler not included, liquid cooler with 280mm or larger radiator recommended
Check Price
Check Price on Amazon
2. Intel Core i9-10900K Desktop Processor 10 Cores
Pros
Its 10 cores and 20 threads come prepared to handle the overclocking needs of the soon-to-launch series.
What's not to like about a price point that is more affordable compared to most of the CPUs on this list?
Cons
Intel sacrificed power consumption for a pre-overclocked CPU, which means you'll struggle with overheating if you're not ready to invest in a robust cooler and motherboard.
Doesn't support PCIe 4.0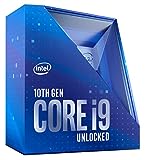 Intel Core i9-10900K Desktop Processor 10 Cores up to 5.3 GHz Unlocked LGA1200 (Intel 400 Series Chipset) 125W
10 Cores / 20 Threads
Socket type LGA 1200
Up to 5. 3 GHz unlocked
Check Price
Check Price on Amazon
3. AMD Ryzen 9 3950X 16-Core
Pros
This AMD CPU is compatible with PCIe gen. 4.0.
Its 16 cores and 32 threads can handle the NVIDIA RTX-30 overclocking, and power needs comfortably.
It's also affordable, meaning you can save on your overall cost of setting up your gaming rig or invest those savings into purchasing the top end products, like the RTX 30-series.
Cons
It struggles at high overclocking speeds, which suggests it might be a problem with the RTX-30 series's top-end if we believe the leaked benchmark tests.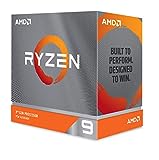 AMD Ryzen 9 3950X 16-Core, 32-Thread Unlocked Desktop Processor, Without Cooler
16 cores and 32 processing threads, the most processing power you can get in mainstream desktop
Can deliver ultra-fast 100+ FPS performance in the world's most popular games
Cooler not included, liquid cooler with 280 millimeter or larger radiator recommended. Max temps: 95°C
Check Price
Check Price on Amazon
4. AMD Ryzen 7 3800XT 8-core
Pros
It's comfortable handling the expected turbo clocking needs of the RTX 30-series.
Supports PCIe 4.0.
Its architecture is based on 7nm's architecture.
The price-performance ratio is excellent, meaning you can invest your savings in a high-end model of the new NVIDIA GPUs.
Cons
It has no cooler, so expect to struggle with overheating once your GPU starts to throttle.
Check Price on Amazon
5. Intel Core i7-10700K Desktop Processor 8 Cores
Pros
It's an affordable option compared to Intel i9 but performs like the Inteli9, something most price-conscious gamers would like.
High overclocking headroom will allow it to handle the ray-tracing needs of the new NVIDIA GPUs with ease.
The decent cooling system allows you to overclock your GPU to an extent.
Cons
Lack of a bundled cooler means you'll struggle once your GPU starts to throttle.
No support for the PCIe 4.0 power system.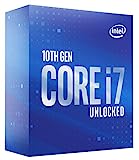 Intel Core i7-10700K Desktop Processor 8 Cores up to 5.1 GHz Unlocked LGA1200 (Intel 400 Series Chipset) 125W (BX8070110700K)
8 Cores / 16 Threads
Socket type LGA 1200
Up to 5.1 GHz unlocked
Check Price
Check Price on Amazon
Conclusion
When considering what CPUs to get for the NVIDIA next-gen series, one key factor should be its handling of overclocking. These new beauties will no doubt be some of the most powerful GPUs out there.
It's for that reason I like or prefer the AMD Ryzen 9 3950X 16-Core. It's 16 cores and 32 threads cover your overclocking needs. No doubt, it might struggle at higher speeds, but its price-to-performance ratio means you have some savings that you can invest in upgrading your gaming rig to handle these issues.