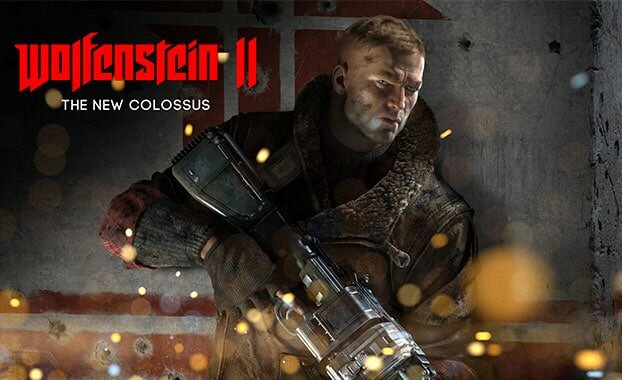 Last Updated on September 14, 2020 by Scott Krager
There is no denying that Wolfenstein 2: The New Colossus is one of the best first person shooters to grace the consoles, and the PC recently. The game combines amazing storytelling, brilliant cast, terrific sound, and over the top acting with blistering fast gameplay.
Needless to say, many view Wolfenstein 2 as the game that reinvented and revived the first person genre.
As with most first-person games to come out recently, this game is also on the demanding end, and while it does not require a supercomputer to run properly, the good news is that much like most of the games that come on PC, Wolfenstein 2 can be tweaked extensively based on your requirements.
Before I start telling you what you need to tweak, you can take a look at the official system requirements first in order to have a better understanding and see what settings you should be tweaking and, which settings you should leave as they are.
Minimum
Recommended
PC Settings
As always, before heading into the main tweaking, I always suggest making some changes to the PC settings in order to ensure that everything is in order.
As for the changes you would need to make, there are not too many, so you should be done in a matter of a few minutes, and that is about it.
Optimal Graphics Setting
Now, this is the important part that you need to understand the most. These graphics settings are completely subjective and normally based on the PC you have.
If you have a highly powerful PC, then you really don't have to worry about tweaking these settings as the performance will be as good as you would expect, but if you have a mid, or low range PC, then you should definitely check out the tweaks that I am about to list down.
One more thing that you should know is that tweaking these settings will definitely have an impact, but again, it will be largely based on the PC you have, because these settings are in direct relationship with the PC you are running.
With that said, let's go ahead and have a look
Basic Graphics Settings
The graphics settings in Wolfenstein II are divided into two portions, the first one is where the basics are; these are for people who just want to have on the go experience, and the second one we have the Advanced Video Settings which are for people who want to tweak the settings and make the gameplay experience truly their own.
Firstly, we are going to take a look at the basic settings so you can have a better understanding, and then we'll move on to the advanced settings.
Advanced Graphics Settings
Again, as stated before, these settings are more likely to have the most amount of impact on your performance than the basic settings, but that does not mean you should avoid them altogether. Basic settings are important too, so that is one thing out of the way. As for the advanced settings, let's have a look at those.
I should mention it again that these settings are not the be all and end all, as they will have different performance increase or decrease in the game based on different computers. So that is one thing that you must keep in mind.
Latest posts by Scott Krager
(see all)