The RTX 2060 and 2060 Super nail 1080p gaming and bring buttery smooth framerates well above 60 to the PC Gaming market.
That being said, your new fancy GPU needs a good processor. The RTX 2060 and RTX 2060 Super add crazy awesome features like Ray-Tracing that take the realism up a notch in your games but all that power will be wasted if you have a bottleneck.
The CPU is one of the most common bottleneck-area in a modern machine but the good news is that you don't need to buy a glorious Threadripper CPU. There are several awesome picks that will take FULL ADVANTAGE of your new GPU while also making your other computer tasks zoom.
If you've seen the occasional stutter in a game despite a nice GPU or 16GB of RAM, there's a good chance your CPU is the culprit.
An underperforming i3 may just nullify all the progress that the new GPU is making! While a fully decked out i7 or i9 sound nice, games primarily need to only invest in the Ryzen 5 or i5 level processor lines to get the most out of a GPU.
Best CPUs For RTX 2060 And RTX 2060 Super in April 2021
My Top Pick
CPU
AMD Ryzen 5 3600XT 6-core, 12-threads unlocked desktop processor with Wraith Spire cooler
Intel Core i5-10400 Desktop Processor 6 Cores up to 4.3 GHz  LGA1200 (Intel 400 Series Chipset) 65W, Model Number: BX8070110400
AMD Ryzen 5 3600 6-Core, 12-Thread Unlocked Desktop Processor with Wraith Stealth Cooler
Cores / Threads
6 / 12
6 / 12
6 / 12
Base Frequency
3.8 GHz
2.9 GHz
3.6 GHz
Boost Frequency
4.5 GHz
4.3 GHz
4.2 GHz
95W
65W
65W
That makes the next part pretty simple for you. I've selected the top three processors I'd pair with a shiny new RTX 2060 or RTX Super and think you'll find all three of these picks the best balance between price, power, and quality. For the newer RTX 3080 or RTX 3080Ti, check out these more powerful CPU picks.
1.

Best Overall CPU For the RTX 2060 And RTX 2060 Super is the Ryzen 5 3400 XT
The Ryzen 5 3600xt is a great pair with a RTX 2060 or RTX 2060 Super
You can pick up a Ryzen 5 3400XT on Amazon for under $250 right now. That is a steal for a more than capable processor. You will not run into any CPU bottlenecks with your Nvidia RTX 2060 or RTX 2060 Super using the latest Ryzen 5 model 3400 XT. It's a great balance of power, speed, while still being budget-friendly for a gaming PC.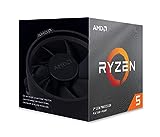 AMD Ryzen 5 3600XT 6-core, 12-threads unlocked desktop processor with Wraith Spire cooler
AMD's fastest 6 core processor for mainstream desktop, with 12 procesing threads
Can deliver fast 100+ FPS performance in the world's most popular games
Bundled with the quiet, capable AMD Wraith Spire cooler
Check Price
Check Price on Amazon
2. Best Intel CPU For RTX 2060 And RTX 2060 Super: Intel Core i5-10400
Intel is known as the solid dependable good guy of CPU technology. After railing AMD for the last few years they've recently had to pump out even better products to stay competitive meaning nothing but good movements coming from the battle of processor titans.
The i5-10400 is just a fine mid-range option coming out of Intel's 10th most recent CPU iteration. If you are like me, you are a bit hesitant to go back to AMD, even if it costs a little more.
You could go for the most recent i5, the 10600K, but that's going to cost more than $100 more, and if you are using a 2060 or 2060 Super, you likely won't be at a bottleneck with the much cheaper 10400, so I'd save my money.
Intel just has a proven track record and has been the reigning champion for the last decade.
An RTX 2060 Super will perform amazing feats with this CPU and inside of gaming you'll experience no bottlenecks.
Outside of gaming, things such as streaming and Media creation may take a bit of a hit with the lowered thread count. Intel specifically keeps the i7 line dedicated to hyper-threading and multitasking meaning those in production who game on the side will want an AMD product.
The 10400 comes unlocked meaning you can overclock it. For those with a little bit of experience who get a thrill out of pushing hardware to new levels, overclocking is an intense fun experience.
I don't recommend being cheap on the Cooler (Intel was sort of cheap and didn't provide one actually) because the RTX 2060 with a nice CPU will create some moderate heat.
If you want to overclock, a premium cooler or cooling solution like water-cooling is your best bet. Unfortunately, the money you'll spend on water-cooling probably is best spent upgrading up other parts unless you are a diehard 1080p gamer.
With the 2060 and an i5 you'll get decent performance with 2K, often hitting 70-80 FPS.
That means you can bump up to the next resolution if you are brave. If not, you may want to take advantage of tech like G-sync because you can definitely hit high framerates in the 1080p range with this setup
Pros
Can be overclocked for even more insane performance
Solid and dependable history from Intel
The best balance of price and quality with intel comes from the i5-10400
Capable of quality 2K gaming with the RTX 2060
Cons
A cooler is not included meaning it'll cost another $30 or so to pick up a new one. I recommend the classic Cooler Master.
Not great at multi-tasking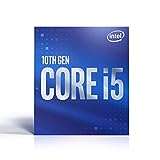 Intel Core i5-10400 Desktop Processor 6 Cores up to 4.3 GHz LGA1200 (Intel 400 Series Chipset) 65W, Model Number: BX8070110400
6 Cores / 12 Threads
Socket type LGA 1200
Up to 4. 3 GHz
Check Price Check Price on Amazon
3. AMD Ryzen 5 3600
Best CPU For RTX 2060 And RTX 2060 Super Overall
The 3rd-Gen Ryzen 5 line-up has continued to impress us and the 3600 drops the deadweight of the Vega while bumping the core count and thread count up.
I personally don't think Vega 11 integrated graphics are much of an edge but if you happened to get this far without your dedicated GPU, be forewarned that this processor needs a dedicated GPU to be any good.
With 6 CPU cores and 12 threads, the Ryzen 5 3600 doesn't have the same struggle multitasking that a comparable i5 tends to face.
These threads allow it to easily outpace the i5-9600k significantly in unique scenarios like Video Editing. For those who game and work with multimedia, this CPU is an overall win! Gaming never needs more than a handful of threads so traditionally an i5 was the best option.
Since the arrival of streaming, gamers have needed more and more utility from a CPU and the Ryzen 5 3600 sticks the landing. With the ability to edit footage easily, game at blisteringly fast speeds with 2K resolution (You can give a go at 4K, we'd just recommend bumping the GPU up.), and perform well overall, the Ryzen 5 3600 is a great compliment to any RTX 2060 setup.
Technically you can mess around with overclocking as well and squeeze out some more frames but I don't recommend doing that at this level as it's risky and needs a good cooling investment.
AMD processors tend to overclock very well but your bottleneck will probably not be the CPU unless you are doing some additional unique activities with this beast of a card.
I can't remember the last time I legitimately found myself wavering from hardcore Intel fandom but the last few years have slowly nudged me to value both manufacturers immensely. This CPU is one more reason that everything is different in 2020 and traditional notions of PC Gaming Rigs just don't stand up anymore.
There are almost no cons to the Ryzen 5 3600 and many can find this card lower in price than the i5-9600k. If that isn't a stunning reason to consider AMD, perhaps you'll just be happier sticking with the products you know and love.
Pros
Insane thread count with 12 threads allows great multi-tasking performance
Can compete in some categories with the i7-9700k
One of the best CPU's to arrive in years
Cons
No onboard integrated graphics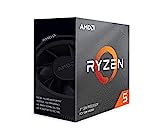 AMD Ryzen 5 3600 6-Core, 12-Thread Unlocked Desktop Processor with Wraith Stealth Cooler
The world's most advanced processor in the desktop PC gaming segment
Can deliver ultra-fast 100+ FPS performance in the world's most popular games
6 cores and 12 processing threads bundled with the quiet AMD wraith stealth cooler max temps 95°C
Check Price Check Price on Amazon
Conclusion
A new CPU and GPU combo is frankly exciting, and whether you go with Intel or AMD, any of these 3 products will feel blazing fast. I can't recommend eliminating that old CPU bottleneck as soon as possible.
You might have found one of these three processors to your liking and I'd have to say it's worth considering an upgrade. Nothing is more annoying than lagging gameplay that hitches regularly. It's like buffering a youtube video while gaming at the same time and just so frustrating.
With an RTX 2060 and one of out top 3 picks, you'll be stutter-free in AAA modern games. As always, thanks for joining us as we roundup hardware and show you the best of the best in PC Gaming.