Since the last 12 months or so, AMD is really dominating the CPU market. Before that, AMD's offerings were considered low-budget alternative to that of Intel. But not anymore.
Their Ryzen 3rd-gen series, released in July 2019, consists of 14 processors targeting different users and price sections and have been liked by the reviewers as well as the consumers.
But having so many options at the same time, with some having very minor differences, results in confusion – especially among newbies.
And if you consider the fact that Ryzen 2nd-gen models are still widely available in the market, the situation gets even more complicated.
In order to save you countless hours in figuring out which Ryzen processor is better than which one (and in what aspect), we've decided to start this mini-series where we'll compare two or more processors and give our recommendation based on what we find.
The first article of this versus series is this one: Ryzen 2700X vs 3700X.
Ryzen 7 3700X has been released as the successor of 2700X, which has confused many people about whether they should upgrade to 3700X or not.
Ryzen 7 2700X vs 3700X
So, without any further ado, let's begin.
2700X vs 3700X: Specs
In terms of raw specs, there's no big difference.
The 2700X comes with 8 cores, 16 threads, a base clock frequency of 3.7 GHz, and a boost clock speed of 4.3 GHz. In 3700X, AMD has kept the same number of CPU cores and threads, with the slight reduction in base clock speed – which is now 3.6 GHz. The good thing, however, is that the boost clock speed has been increased to 4.4 GHz.
Considering the fact that 3700X is based on the new Zen2 architecture, it's not really a difficult question regarding which CPU is more powerful.
2700X vs 3700X: Gaming Performance
In order to test the gaming performance of both these processors, we paired them up with RTX 2080 Ti one after the another, and played different games at different resolutions and different presets.
The first game we played was Assassin's Creed Odyssey at 1080p Ultra preset. We managed to get 102 FPS on average with 3700X, and 2700X was not too far behind at 92 FPS. Then came the Division 2 and Hitman 2 – again both at Ultra 1080p preset. Ryzen 3700X got us 158 FPS and 110 FPS on these games respectively, while the 2700X against well very close at 143 FPS and 103 FPS.
As you may have realized, Ryzen 3700X doesn't bring any big performance difference over the Ryzen 2700X despite being a generational update. We were curious to see if this could be specific to 1080p gaming, so we increased to 1440p resolutions but the results surprisingly didn't change.
In Battlefield V @1440p Ultra preset, the difference went even closer as 3700X got 129 FPS on as compared to 126 on 2700X. The same happened in Shadow of The Tomb Raider, where the result was 89 vs 86 in the favor of 3700X.
2700X vs 3700X: Features
As far as features are concerned, 3700X has some big advantages over the 2700X, being its successor.
First one is the X570 chipset and the PCIe 4.0 support. For those who don't know, X570 chipset is the first one to support the new PCIe 4.0 standard, and although you need to get an X570 motherboard for it to work, it has a lot of potential, particularly in the form of PCIe 4.0 SSDs that transfer data faster than ever before.
The other goodies that come with Ryzen 3000 series processors include the 7nm micro-architecture and PBO. PBO (Precision Boost Overdrive) is interesting because it was first introduced in AMD threadripper CPUs and now they've implemented in their consumer-based models as well.
It allows the CPU cores to boost as high as they can, depending on your workload, your cooling solution, and the power headroom.
Power Consumption
The only area where the difference between 2700X and 3700X is big, is the power consumption. The 2700X consumes relatively high power of 105W, while 3700X only draws 65W even after delivering slightly better performance.
2700X vs 3700X: Price
Price is the area where things actually get interesting. So far we've learned that 3700X is better than 2700X in almost every possible way, but like many things around us, better performance doesn't always equals to better value.
3700X was priced at 330 bucks upon its release but now you get it at less than $300 from different online retailers. In essence, it's a pretty straightforward pick for those looking to build/upgrade their 1440p gaming rig.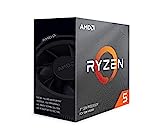 AMD Ryzen 7 3700X 8-Core, 16-Thread Unlocked Desktop Processor with Wraith Prism LED Cooler
The world's most advanced processor in the desktop PC gaming segment
Can deliver ultra-fast 100+ FPS performance in the world's most popular games
8 cores and 16 processing threads, bundled with the AMD Wraith Prism cooler with color controlled LED support
Check Price
However, 3700X has caused the 2700X's price to go even lower and now you can get a used model (in good condition obviously) at even less than 200 bucks. This means that 2700X remains a decent option for everyone who's looking to build an above-average gaming PC in $600-$800 price range.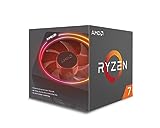 AMD Ryzen 7 2700X Processor with Wraith Prism LED Cooler – YD270XBGAFBOX
8 Cores/16 Threads Unlocked
Frequency: 4.3 GHz Max Boost. Base Clock 3.7GHz
Compatibility : Windows 10 64 Bit Edition , RHEL x86 64 Bit , Ubuntu x86 64 Bit
Check Price
Conclusion
So that was it. We have compared the Ryzen 2700X and 3700X in different ways and found the latter to be better (as expected) in almost every possible way.
Now comes with conclusion part.
Is Ryzen 3700X a worthy upgrade over 2700X?
Not really.
There isn't big performance difference between the two processors which mean if you already own a 2700X, changing only the CPU won't make your gaming experience a whole lot better.
If you're coming from Ryzen 2600 or 2600X, however, 3700X seems a better option for those 1440 AAA titles.